HOTS Replay Uploader
Super lightweight HOTS uploader for OS X (10.9+)
Get it here
Features
Lightweight - Zero cpu usage when not uploading
No need to choose - Supports both Hero.gg and Hotslogs.com
Screenshots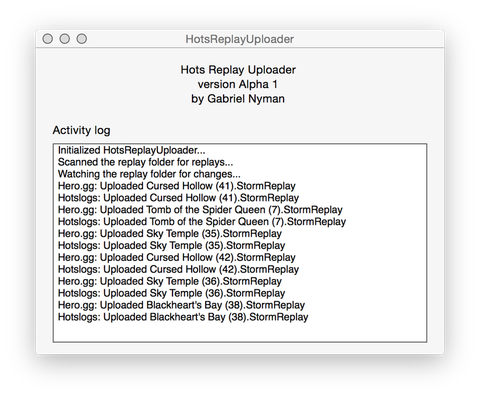 Changelog
Alpha 2 (also known as the 1.0) is out
Hero.gg support - It will automatically upload to both hotslogs.com and hero.gg
Menubar - To make it less intrusive it now hides away in the menubar instead of taking up room in the dock.
Known issues
Application won't open.
This is related to gatekeeper and it not being signed. Try right clicking and choosing open. If that does not work, change the security settings to "Allow apps downloaded from:" to Anywhere. Run the app, then change the settings back. You will be able to keep running this app and you will be protected against other malicious apps.
Not working or other issues? Please file a bug
Source code available at github